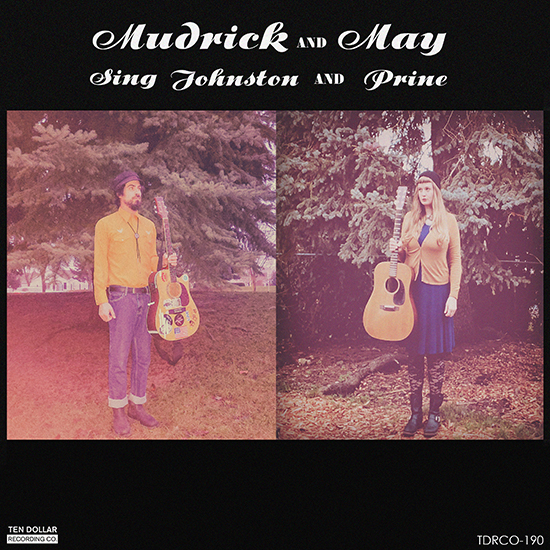 SPLIT EP by Thomas Mudrick & Mariya May
Release Date: February 17, 2022

There are so many songs about the futility of life, and a desire for something better. Songwriters like John Prine and Daniel Johnston are on two ends of a certain spectrum of disproportionately influential musicians whose work has found its way deep into the crevice of our collective psyche - staples in cover sets from bluegrass to shoegaze to psych rock for decades. Why? Do we find hope in the listless ramblings of imperfect heroes? Do we think we can tap into something that they knew when they wrote them? Or are we just asking the same questions over and over, hoping that if we reach a chorus loud enough the sky will open up and rain down the riches of whatever's on the other side?

Thomas Mudrick's contributions to the Ten Dollar Recording Co. world of sound have brought technicolor splashes of rural bliss, a sort of dreamy space folk dragged out of the woods and into the light. A fine soundtrack to a chill fishing trip in heaven. His take on these two songs by Prine and Johnston are bare, direct, and earnest. Rich acoustic performances with subtle embellishment that let the songs and performance shine. On the flip side, we have Mariya May's brighter spin on both tunes - dreamy and playful, with layers and layers of gooey goodness to dig into, accompanied as usual by the inimitable multi-instrumentalist and engineer Mo Douglas. Listen to these - at this point we might as well call them timeless - and imagine your own future, including what might come at the end, because it will. This is a promise with a catch. (Bryan Bruchman)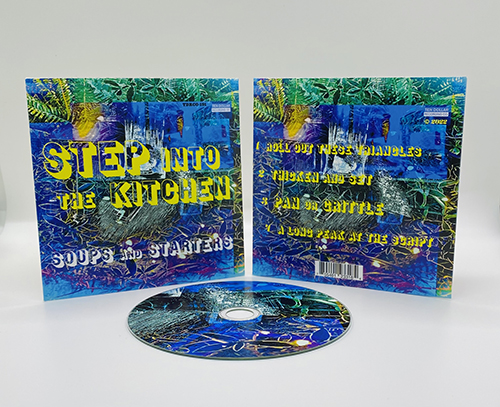 Portland Band "STEP INTO THE KITCHEN" release debut EP Soups and Starters
CD/DIGITAL: February 17, 2022
Soups and Starters is the inaugural EP from Portland-based band Step Into The Kitchen, out February 17, 2022. From opening track "Roll Out These Triangles" to closer "A Long Peak at the Script", Soups and Starters is a collection of groovy, head-nodding sonic harmonia, underpinned by a seamless mixture of dub, R&B, and psychedelic haze that drips off every track, seeping out to settle into the deep green valleys of Western Cascadia. Though clocking in at just under 12 minutes, there's a lot going on here - aforementioned "Roll Out These Triangles" is an ecstatic reggae-infused dust-up hum-along, while dub-drenched "Pan or Grittle" could be passed off as a Black Ark b-side. Standout track "Thicken and Set" is easy listening for more discerning sets of ears, and album closer "A Long Peak at the Script" pulls in rhythmic vocal incantation and mellow flute lines to induce a dreamy nod to exotic locales just beyond recognition. If you're looking to chase off some of the late winter blues, this sunshine-infused outing may be just the ticket. Get it while the oven's hot. (Reed Burnam)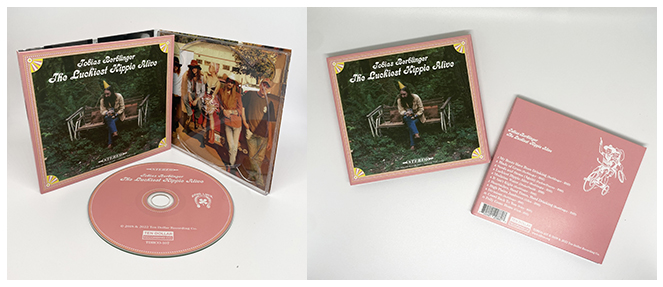 Tobias Berblinger - The Luckiest Hippie Alive

Original Release Date: October 19, 2018
Reissued in February 2022 on new 6-panel CD digipak
New Remaster for Streaming & Downloads Released April 2022
180-gram Vinyl Edition Arrives July 2022
While it's a little less popularly known than the rock 'n' roll and pop arcs of the same period, country music in the 1960s and 1970s also had its own counter-cultural flowering as influential voices within the genre rejected the Nashville country elites, cross-pollinated with West Coast psychedelia, and re-embraced the weird, old, melancholic strain of Americana that's been present in all music of the North American continent for centuries. Tobias Berblinger's The Luckiest Hippie Alive makes deft use of a host of lesser known yet long appreciated country and folk influences that have remained on the tongue of many a critic and tastemaker for some decades now, as the mainstream country music machine continues to churn out bland, soulless schlock readymade for truck stop shitters all across the nation. Culling together some hook-laden songcraft with a strong nod to many of Berblinger's obvious influences, including outlaw and cosmic country luminaries such as Gram Parsons, Blaze Foley, and Townes Van Zandt, et al, The Luckiest Hippie Alive is a strong record that's memorable and often hilarious, wearing its influences on its sleeve while still managing to fully hit its own stride.

For the sake of the song of course, Berblinger cranks out solid original tunes such as the smoky pedal steel ballad "My Boots Have Been Drinking", folk weirdness of "Blade of Grass" and "It Ain't Right", and sing-along barroom anthems "Divisions" and "Heartaches, Hard Times, Hard Drinking". To round out the track listing, Berblinger employs a number of cover tunes, including Terry Allen's "High Plains Jamboree", Gene Clark's excellent "Polly Come Home", and a heartfelt cover of the late, great Blaze Foley's "Crawl Back to You", paying tribute to the doomed Austin songster's signature fingerpicking style reminiscent of country blues icons such as Mississippi John Hurt. Sealing the deal, the addition of Commander Cody's "Seeds and Stems (Again)" makes sure to fully honor some of the more tongue-in-cheek trappings of country music storytelling, with the protagonist managing to lose his dog, his house, his girl, and his weed all in the same song. Berblinger doles out much of the same light-hearted yet grounded world-weariness throughout The Luckiest Hippie Alive, and in all the record is an affectionate testament to strong songwriting, a fertile period in American music, and the perennial highway blues. (Reed Burnam)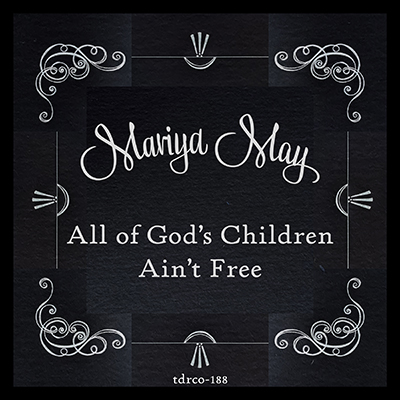 There's a certain something to a hopeless tune paired with cheery music, and Johnny Cash leaned into that hard on his "All Of God's Children Ain't Free" - with plucky, winky-smiled singalong style. But what if we strip away that country sheen, shifting the tune to the classically downer minor chords to fix the vibe - after all irony was successfully killed off with the last century, right? Mariya May gives the song a spin, laying on a darker, more morose vibe that feels modern and timeless, because sadness is forever. The song is a hymnal now, the soundtrack to a procession of misery and despair for 2022 (with a little whistling to brighten things up for good measure), drawn out and spiced up with a tenor sax solo from the inimitable Peter QB that perfectly compliments the playing of Mariya and Mo Douglas. (Bryan Bruchman)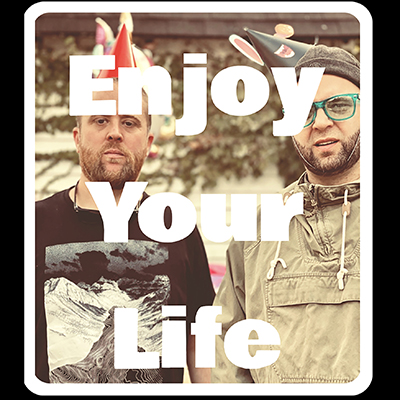 Prince Joely Releases "ENJOY YOUR LIFE" Single
December 5, 2021
Prince Joely, the royal canine heir to the Ten Dollar Recording Co. empire, slides out another watery groove for the masses. Joel Rasmussen has a way of dipping his paws into different styles as a songwriter and producer, but dub is frequent territory for his instrumental jams, and with "Enjoy Your Life" we're taking a trip straight to the islands. Joely's least esoteric release yet, we present a feel-good pleasure ride with steel drum, springy guitars, classic reggae organ, spacey ambiance, and bass that'll make your nose twitch, among other things. What's not to enjoy? If you've got a life to live, you're doing great. (Bryan Bruchman)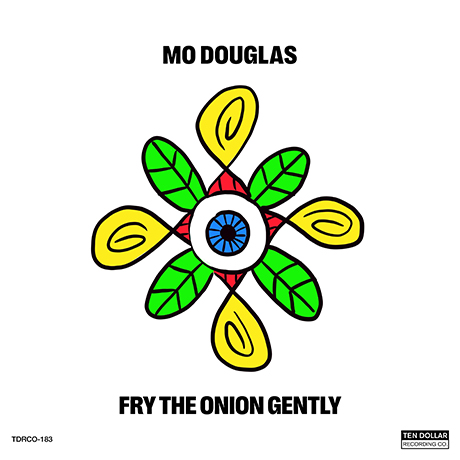 Mo Douglas Releases 8th Solo Album FRY THE ONION GENTLY
October 25, 2021
Mo Douglas - the master chef multi-instrumentalist of Portland's Ten Dollar Recording Co. - does it again, cooking up the groovy instrumental jams and bestowing upon our ears the best recipes for love, all on dog-eared pages fresh from your momma's favorite magazines. Mo's perfectly imperfect concoctions are hand-crafted to bring a smile to your face and open up your mind - psych, funk, soul, dub, jazz, garage rock, but most important of all a perpetual groove - swirling throughout the record as the flavors mingle.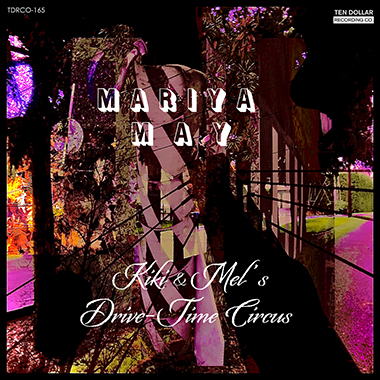 Portland-based singer/songwriter Mariya May's third solo full-length Kiki & Mel's Drive-Time Circus arrived on cassette and on your streams January 7th, 2021. A prolific singer, songwriter, and collaborator, May's presence can be found all over numerous other projects from labelmates across the TDRCo back catalogue, in addition to her own predilections towards penning intimate, sprawling, and dramatic indie-folk. With the playful, hummable, and at times wistfully melancholic Kiki & Mel's Drive-Time Circus, May adds yet another feather to her cap and another album to her steadily growing canon that's sure to be a shaft of sunlight through your winter window.

Paying homage to a wide variety of influences, from 80's/90's shoegaze and new wave, earthy 60's/70's pop and soul, late 90's trip hop, and all manner of psych and world musics, May's songcraft is unique and textured, gently referencing while remaining a sound apart from just about anything else you may have happened across. Holding it together is her top-shelf voice, which she deftly stretches from soft, sweet, and mellow, to dramatic, full-bodied, and soulful, channeling as much from Elizabeth Fraser as she does from Mavis Staples. And lucky for you dear listener, May's vocal presence is the anchoring point for Kiki & Mel's Drive-Time Circus, doing some serious work on finely-produced covers like "Pack Up Your Sorrows" (Mimi and Richard Fariña), "New House of The Pope" (Frank Black and the Catholics), and "Nearly Lost My Mind" (from TDRCo labelmate Ryan Massad), nestled alongside well-crafted originals like "On Your Heels", "Oh No! Oh No! Oh No!", and the 2020-apt "Christmas at the Broken Hearts Inn". Throughout, May's inner muse shines bright, and you'll be finding yourself wanting to give this one a second listen before heading out to dive further into her extended catalogue of quality releases.
Reed Burnam "FUNERAL SELFIE" Single April 7, 2021
A hummable take on modern malaise, Reed Burnam's new single "Funeral Selfie" is party mix of acapella vocal, neo-Motown groove, West African guitar, and tongue-in-cheek lyrics. Definitely a must for your post-lockdown grooves. Keep an ear open for Reed's new album, out soon on Portland's ever-tuned in Ten Dollar Recording Company.
Mariya May Releases Mountain Goats Cover "SEED SONG" October 1, 2021
The new single from Mariya May is her second visitation to the Mountain Goats' boombox-era catalog (following a 2016 take on "Orange Ball of Love") - turning "Seed Song" on its head, flipping the groove from a nervous, harried anthem to a blissed-out, shimmery 60s pop gem. Instead of falling apart, it's a sort of matter-of-fact empowering vibe - we didn't need that man with the seed, and we're just gonna keep on waiting and waiting and… you get it.

"I know you're waiting for the ironic ending / I know you're waiting for the punchline / I know you're waiting for the rain to come by, so am I, so am I, so am I"

Over 25 years since the Mountain Goats' original boombox recording of the song lead off 'Ya, The King Of Crops', Mariya's take on the tune feels darkly apropos - isolation and endless waiting come up in pop songs all the time, but it's been two years of keeping distance from people, and a whole lot of waiting for the punchline. The thing is, you know it ain't gonna come. (Bryan Bruchman)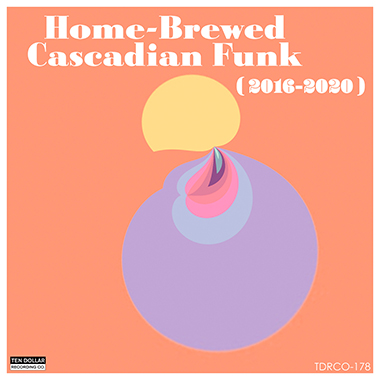 CD & DIGITAL
August 27, 2021
Late summer Delta variant blues got you feeling down? For an uplifting inoculation of danceable homespun funk grit, look no further than the new comp Home-Brewed Cascadian Funk (2016-2020), out on Portland, Oregon's always innovative Ten Dollar Recording Co. These 11 tracks should be played loud, and with ample room for grooving - let your dancing feet get you going like it's late 2019 again.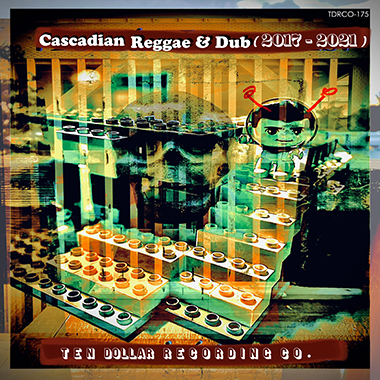 CD & DIGITAL
June 20, 2021
Busting at the seams with 11 heavy duty psych-dub cuts, Portland-based Ten Dollar Recording Company's new comp Cascadian Reggae & Dub (2017-2021) channels the earthy, sinuous funk of dark and groovy dubmasters like Lee Perry, Family Man Barret, Augustus Pablo, Yabby You, and Prince Jammy, the TDRCo crew once again digs deep and demonstrates that their stylistic taproots run from the West Coast all the way to the perennially fertile soil of Afro-Caribbean groove. Cascadian Reggae & Dub (2017-2021) skates through experimental chopped and screwed dub jams drenched with blasts of echo and reverb right through dubby vocal reggae with a dream pop sensibility, all while remaining firmly grounded in the hazy rainforest psych glow of the PNW coastal range. This is one of the things TDRCo does best - get this one and get your groove on already.
Three Comps and a Baby is a CD ONLY 2-disc set that collects three Ten Dollar Recording Co. various artists compilations that were initially released digital-only in 2020: The T-D-R-Co Sound: Underground Pop, Folk Boogie, & Neo Dub Collection, The T-D-R-Co Sound: Cooking For Today Collection, and Ten Dollar Friday Night. Includes tracks by Mariya May, Reed Burnam, Chance Wiesner, Prince Joely, Thomas Mudrick, Good & Cool, Mo Douglas, What in Your Heart Can Put You in a Trance, The Ass Nuggets, The Hot Breath, The Dirty Rags.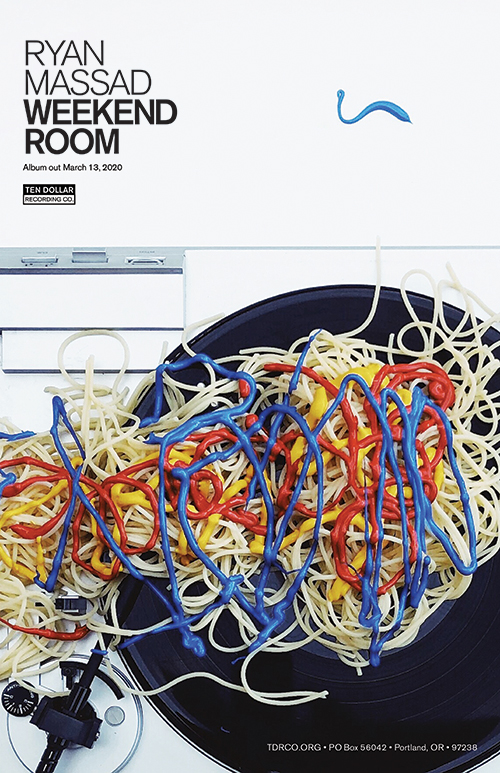 Weekend Room is the second full-length by Portland-based multi-instrumentalist singer/songwriter Ryan Massad, out now on the Ten Dollar Recording Co. label.

Following up 2017's Alone and Overdressed, Weekend Room is 22 tracks of warm, home-produced and largely acoustic indie pop and psych. Organic and lo-fi throughout, Weekend Room is long on texture and mood, the assorted vocal compositions intertwining with groovy head pieces, experimental outings, and classical guitar interludes all solidly shellacked with Massad's inborn ear for melody and experimental attitude.

From the sparse and lonely singer-songwriter stylings of "You Can't Be Sad", "After School", and "Just What To Say", to the capricious instrumental ambience of "Water", "Banana River", and "Hot Night in the City", and the flower child baroque of "Smile Out of Style" and "Jeita", Weekend Room picks up where Massad's previous album left off and immediately begins to further color outside the lines. Throwing genre and expectation into the home recording blender, Massad is at his best when serving up a variegated spread of songs for your listening pleasure. So go get some already. (Reed Burnam)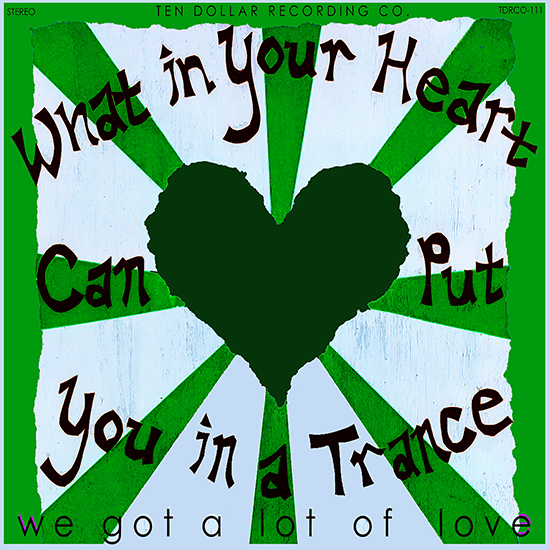 Amongst the impressive catalog from Portland's Ten Dollar Recording Company, 2019 full-length We Got a Lot of Love stands out with its gripping songwriting and versatile stylistic allure. The release comes from What in Your Heart Can Put You in a Trance, a project formed in 2011 by Mo Douglas and Mariya May, the duo who head the label. They co-produced the stellar We Got a Lot of Love alongside Prince Joely.

The album features May's stirring vocals throughout. A strong climatic pull is evident throughout in her vocals' ability to shift seamlessly from suave and entrancing to more raucous heights. Ryan Massad's vocals also emerge on five tracks, touting a psych-friendly falsetto that furthers the already-diverse sound on display.

Infusing psych-pop with folk, the peppy "It's All In It" grips immediately. A jumpy bass line and frolicking guitars complement a versatile vocal performance from May. The primary verses exude a more laid-back quality, building cohesively into vibrancy and melodic glee. "I Got You Singing" and "It's All In It" consume as the album's opening tracks, accessible and immersive in their enthusiastic meshing of rock, folk, and pop.

Later experimental forays, like the free-jazz conversing on "The Air Smells Fresh" and the breezily funky '70s nostalgia of "My Love (It's True), Pt. 2," separate distinctively from the album's initial sound, though succeeding similarly. Several tracks with a blues-fronted allure also stand out. The bluesy guitar bites within "You Got Our Hearts" tastefully complement the track's dazed tone, the rhythm section fit for saloon-set galloping, rounding into a lovely organ-laden hook at the two-minute turn. "Eight Thousand Dollars For a Lunch" pursues a bluesy fervor with eclectic instrumentation. A steady R&B backbone accompanies flute, enveloping organs, and intoxicating vocals; May's hypnotic lead and Prince Joely's spirited backing vocal additives lead this fun romp of a track.

In its more sentimental spectrums, We Got a Lot of Love charms with its themes of optimism, the clear byproduct of a labor of love. Heart-tugging folk-forward production and unifying vocal performances resonate alongside tender lyrical sentiments. With love and collective talent, We Got a Lot of Love shows exemplary songwriting and impressive musicianship from What in Your Heart Can Put You in a Trance, successfully traversing from heartfelt folk and rollicking blues to bursts of atmospheric nostalgia. (Mike Mineo)